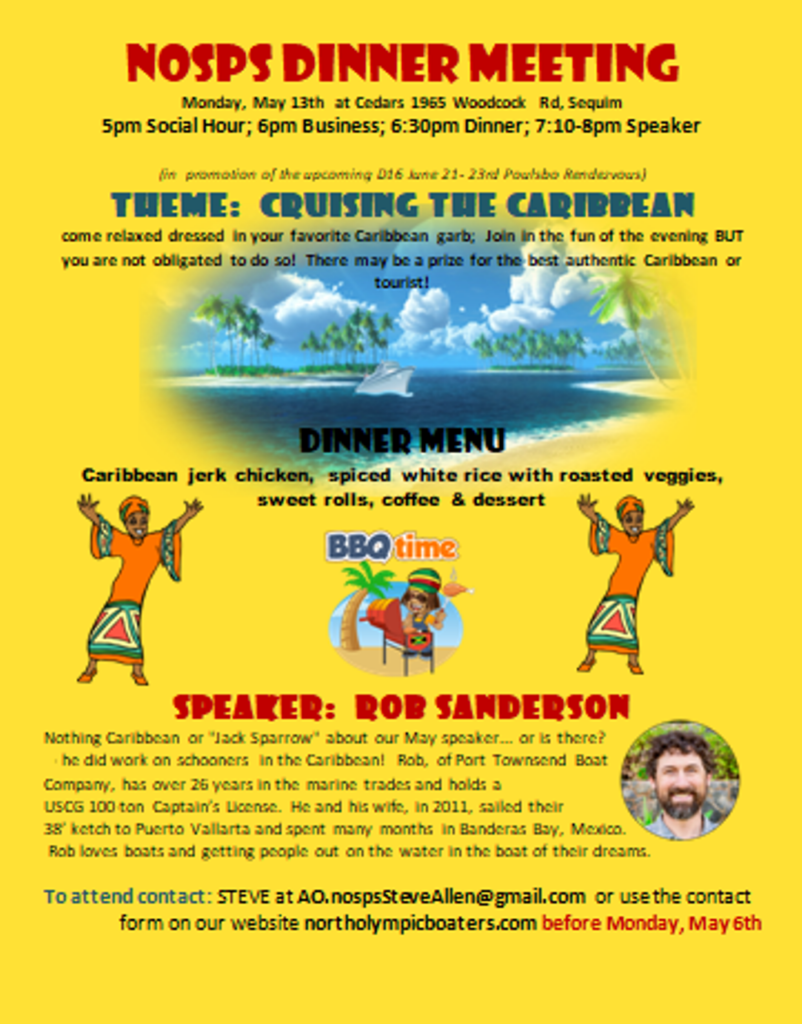 May Bridge Meeting - May 13th   8:30 am
BRIDGE BREAKFAST MEETINGS
Hosted at Sunland Golf & Country Club, 109 Hilltop Dr, Sequim, WA 98382
 2nd Monday morning of each Month September through May
0830 start; approx 1030 finish
The meeting room at Sunland is complimentary dependant on attendees breakfast purchases.  Come early (0800) to order breakfast prior to the meeting start.
All members are welcome to attend if they wish.
2019 District 16 POULSBO RENDEZVOUS
June 21 - 23 at Poulsbo Marina
THEME:  CRUISING THE CARIBBEAN
Join us for a fun filled weekend of SeaSkills, Safety Demonstrations, & friends. Cruise to Poulsbo Marina (be sure to pre-register or drive down on Friday evening and stay the night at a hotel; or simply just enjoy the evening and drive home.  Come back again on Saturday for the fun again.
FRIDAY NIGHT DOCKTAIL PARTY
Take part in the fun of Docktail Evening.
Come relaxed dressed Caribbean style... Totally optional.
Each Squadron decorates their boat according to the theme. Squadron members bring themed food to set out on tables in front of the decorated boat.  During Docktails all attending members of the 15 Squadrons walk the dock sampling food and beverages supplied by each Squadron.  You mingle; you chat; you relax on a host boat or one of your friend's boats.  ick back and enjoy!
SATURDAY SEASKILLS & SAFETY ACTIVITIES
During the day several events will be scheduled.  A schedule of these events should soon be available. Check back soon.