Listing of Acknowledgements
Volunteer Instructors - Thank you to 21 Volunteers
Castaways - Thank you for being such great sports
Tom O'Laughlin - Thank you for serving as Commander
S Thomas, J Shanks & J Roberts - Robert Brummet Award
Nila Madsen - George C Scott Award 2017
NOSPS - "Distinguished Communicator Award" for Straitlines              Newsletter & our Website
Ray & Sandy Thomas- "Ten Merit Marks"
Gordon Bilyard - Propane Seminar acceptance
Rob Rohner - First catch of the year
Ted Shanks - Launch of Honu
Duane & Susy Webb - Acquisition of                                                                        "Summer Passage"
Catherine Bilyard - "Boys in the Boat" quilt
If you know a member of NOSPS that has a recent boating related accomplishment/success/ boat acquisition, etc
that can be recognized on our "Worthy Mentions" page, please let us know.
WORTHY MENTION - "Recognition to our 21 Volunteer Instructors 2016/17.
On behalf of NOSPS, Education Officer, gave recognition and thanks to all of our members who volunteer of their time to make the commitment of their time and talents to teach the USPS courses over the Fall, Winter & Spring months.  The 361 students taught this year appreciate their efforts.  Instructors had their dinner paid for by NOSPS as a token of our appreciation.  A number of Instructors are absent from the photo as they are off cruising the Pacific North West waters & beyond.

WORTHY MENTION - "A huge Thank You" to the Castaway Crew of the S.S.Minnow

A big thank you to Tom Lynch/Gilligan, Torben Blitchfield/Skipper, Linda Bond/Mary Ann Summers, Suzy Webb/Ginger Grant, Duane Webb/Professor, Jim Jones/Thurston Howell III, and Jan Jones/Lovey.  These 7 members  at our May Dinner Meeting helped promote the Upcoming D16 Rendezvous in Poulsbo. They were asked at the last minute and they readily agreed taking part whole heartedly with assembling costumes & accessories.  What a great job!  Thank you so much for being such great sports and pulling it off so well!
WORTHY MENTION - Thank You Commander Thomas O'Laughlin
for serving as Commander 2016/2017.
New Commander Raymond Madsen presents Thomas O'Laughlin with a Thank You gift for serving as our NOSPS Commander. Tom, your quiet command leading our Squadron, behind the scenes getting things organized for all of us is greatly appreciated by all members.  Tom will now serve as Past Commander.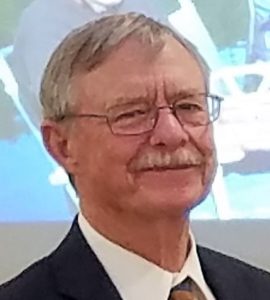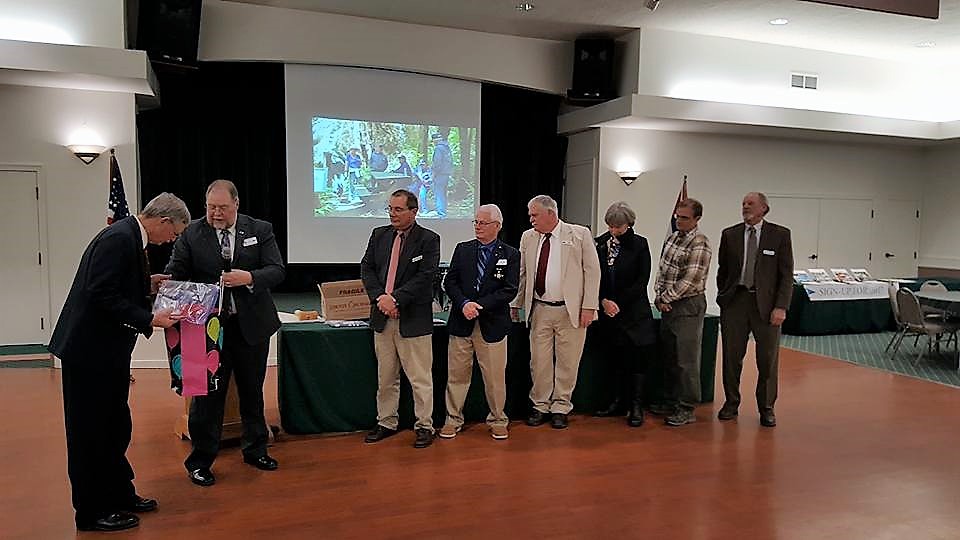 WORTHY MENTION - Congratulations          "Sandy Thomas, Judy Shanks & Julia Roberts"
Education Officer Ray Thomas on behalf of NOSPS presented Co-Instructors Sandy Thomas, Judy Shanks & Julia Roberts the "Robert Brummet  Instructor of the Year Award" 2016/2017.
These three co-instructed the Seamanship class.                      Co-Instructing started with Seamanship.  This past year, these Instructors demonstrated how well the Co-teaching is working and set a great example for success.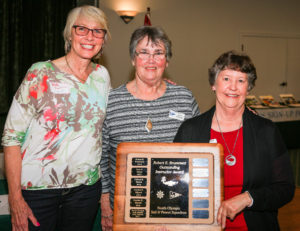 WORTHY MENTION - Congratulations  "Nila Madsen"
Commander Tom O'Laughlin  on behalf of NOSPS presents Nila Madsen with the "George C. Scott Member of the Year Award" for 2016-2017 for the efforts & time given toward maintaining the past website and designing & creating our new current website.

WORTHY MENTION - Congratulations "Ray & Sandy Thomas"  
upon receiving their "Tenth Merit Mark" each indicating ten years of giving of themselves and serving over and above what the job descriptions for the Volunteer positions they hold required.  Thank You Ray and Thank You Sandy for your dedication and contributions to this Squadron.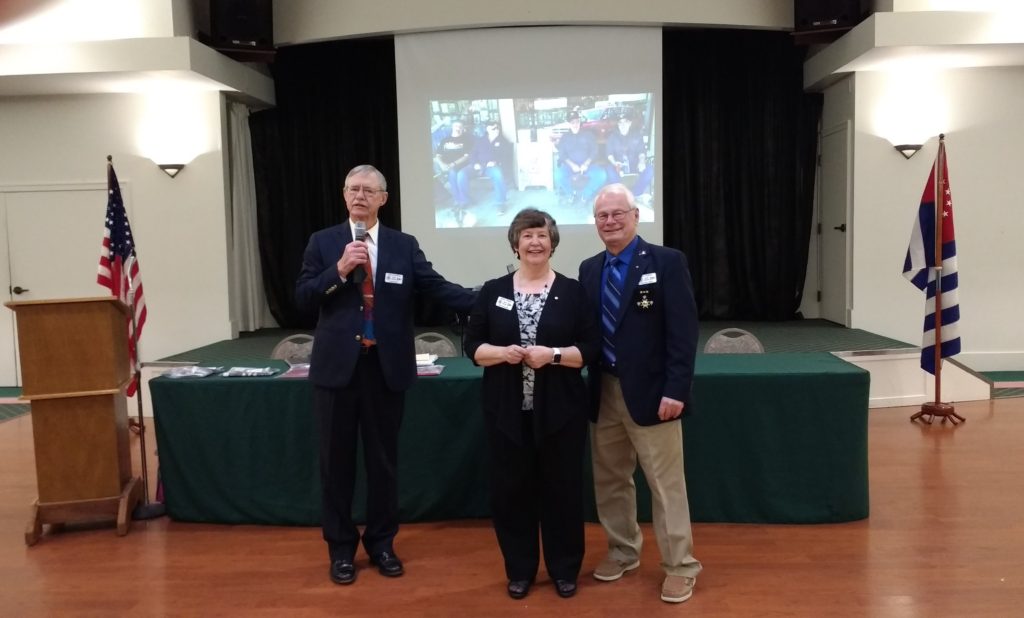 Worthy Mentions - NOSPS receives  "Distinctive Communicator Awards" for both our "Straitlines" Newsletter and our North Olympic Boaters" website.  Awarded by District 16, Alayne Fellows for Straitlines and Nila Madsen for the website accepted the Distinction.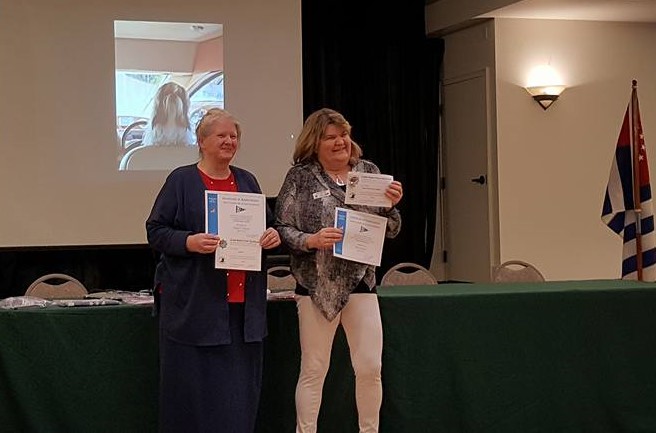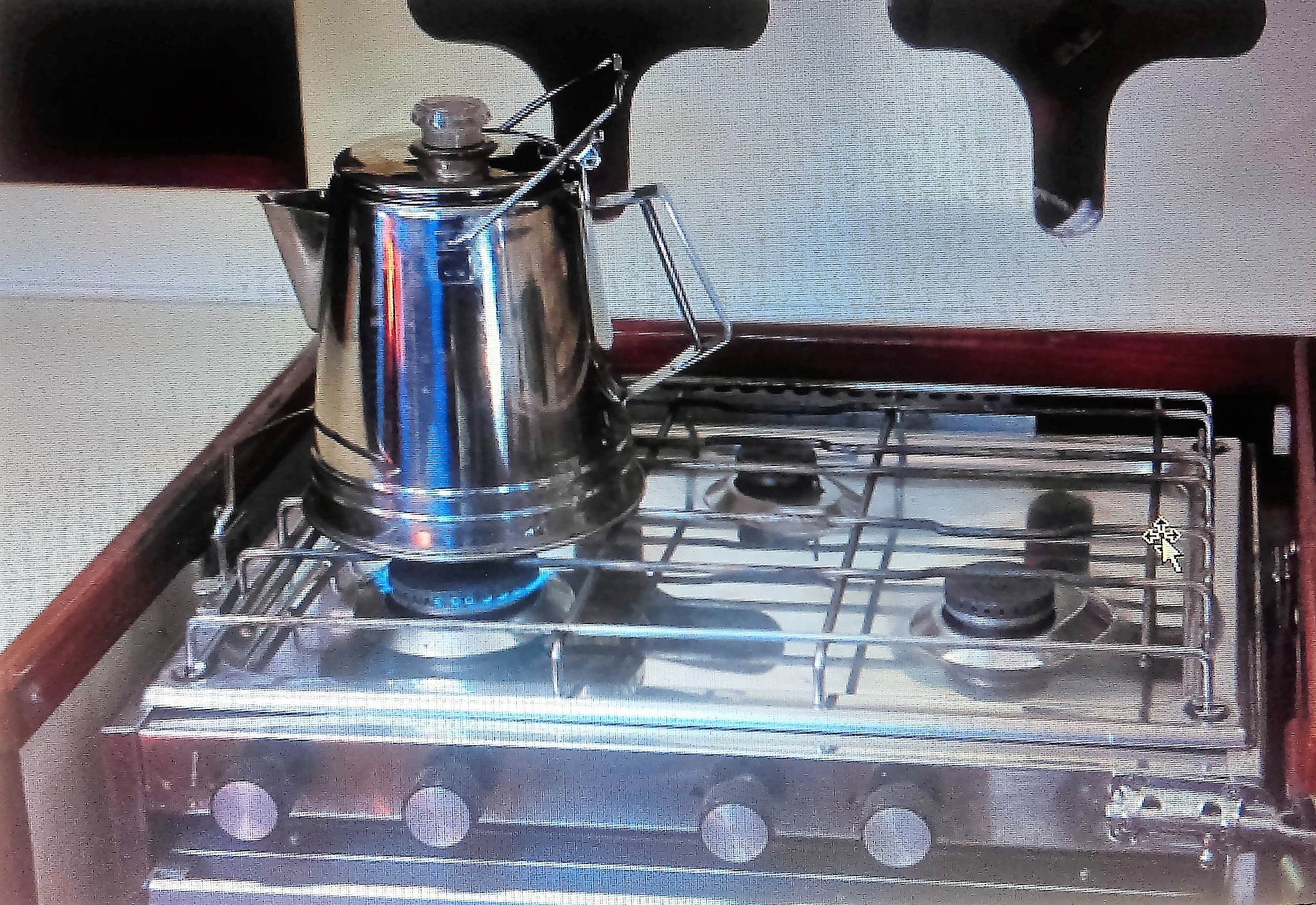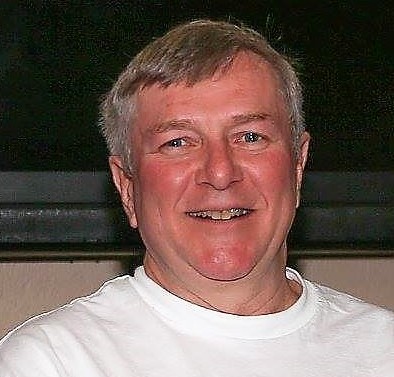 WORTHY MENTION - Acknowledgement to "Gordon Bilyard"
on the success of  "Propane on Boats – Properties, Systems, and Safety" Education Seminar Gordon developed.
Gordon has been working with the Electo-Mechanical Systems Committee of the U.S. Power Squadrons to finalize his seminar on the safe use of propane and butane (aka Liquefied Petroleum Gas) on boats. 
It is currently undergoing a thorough technical review by USPS and external reviewers prior to finalization.  His seminar, Boating with Propane and Butane – Properties, Systems, and Safety, educates boat owners about the properties of propane and butane, boat propane systems and system components, where and how butane is used on boats, and the operation and maintenance of propane systems and butane appliances. 
Considerable time is devoted to safety considerations and concerns – specifically, how to mitigate the risks of using propane through regular inspections, maintenance, and testing.
WORTHY MENTION - "Rob Rohner makes a worthy catch to start of the 2017 fishing."  
Rob, an avid fisherman, ignored our cooler temperatures headed out fishing.  The pay off, was this catch - a black mouth salmon and a 30# halibut! Great way to start his 2017 fishing season!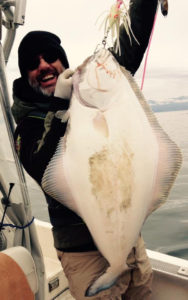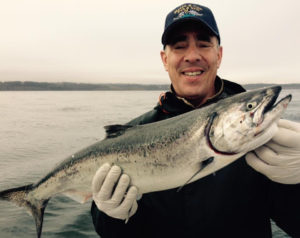 WORTHY MENTION -  Congratulations to Member "Ted Shanks"
Member Ted Shanks builds & launches his new boat, Honu, successfully.
HONU began building in Ted's garage last May from a kit shipped from New Hampshire.  She is 18 ft long with a 38" beam. Construction consists of 1/4" X1" cedar strips glued to shape which is then sealed inside and out with clear fiberglass and the whole finished in gloss varnish.  The finishing touch was adding a rowing rig to take eight foot long sculling oars.
There was a brief christening/naming (single malt of course) followed by the first launch at the John Wayne Marina November 27th.  The first rower was the builder, Ted Shanks.  The row session was considered a success.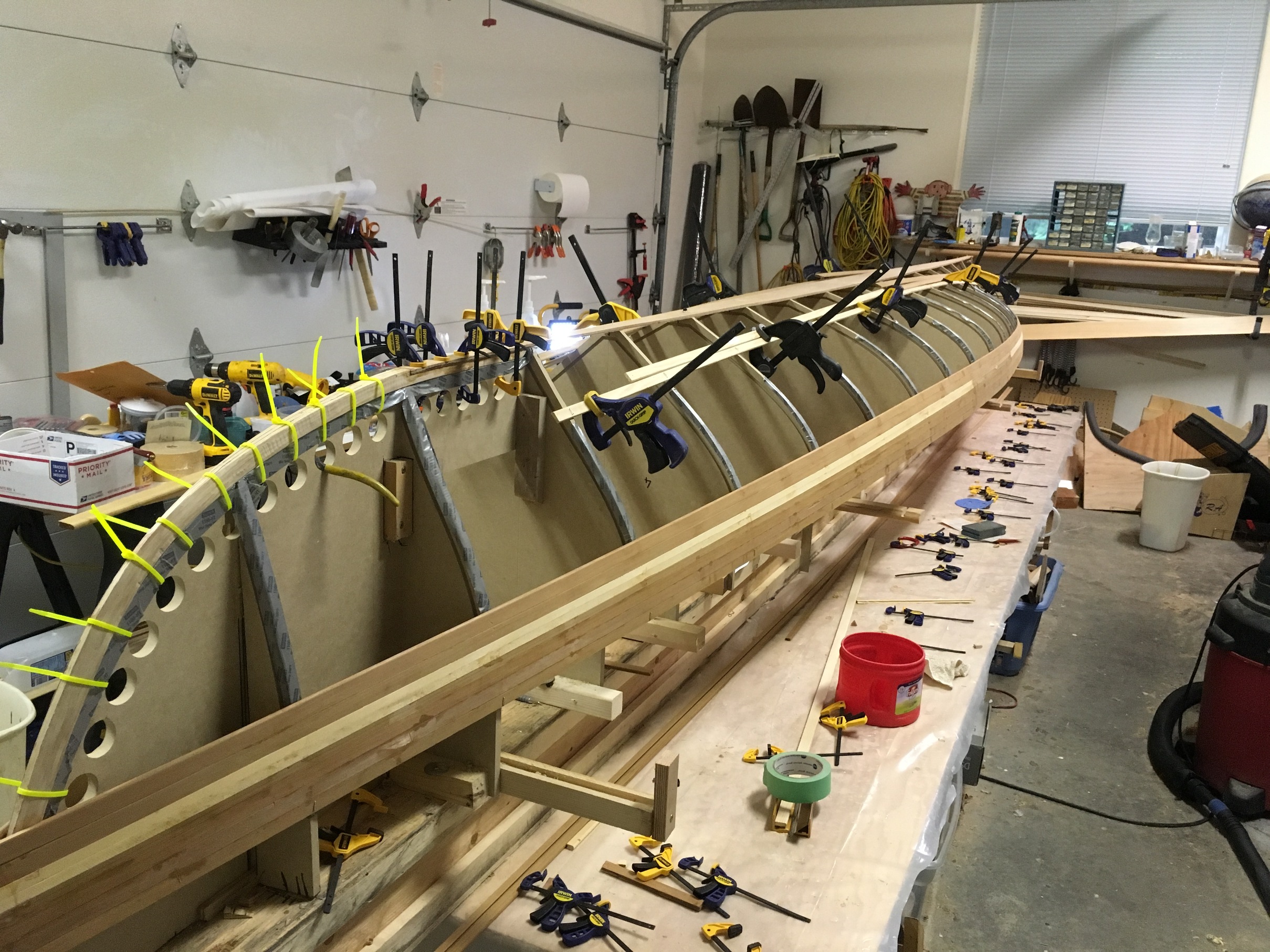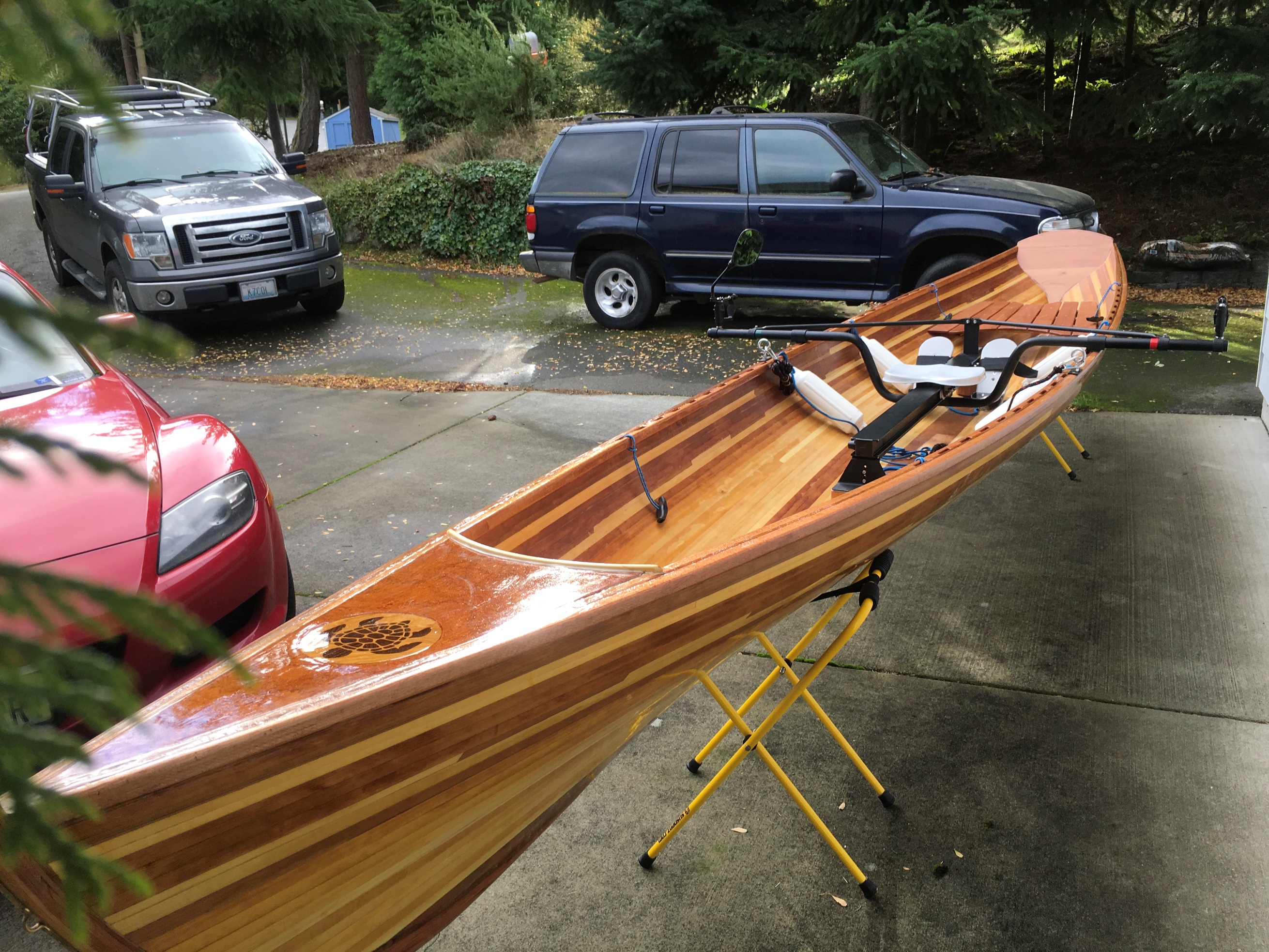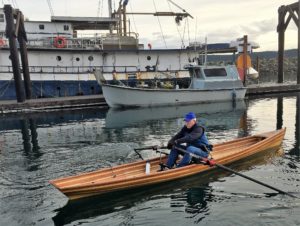 WORTHY MENTION -  Congratulations  to Members "Duane & Suzy Webb"
On the acquisition of  "Summer Passage", a 38' Nauticat Pilothouse ketch rig.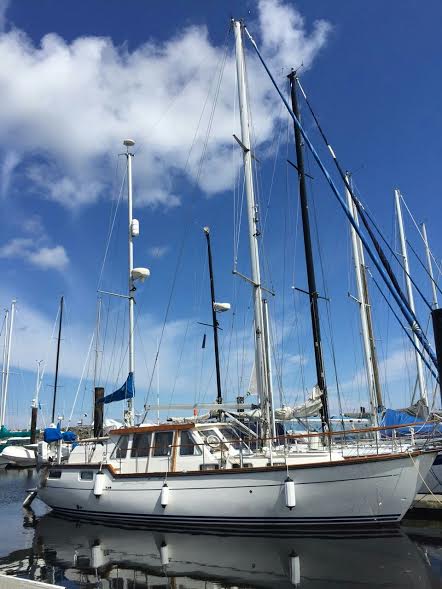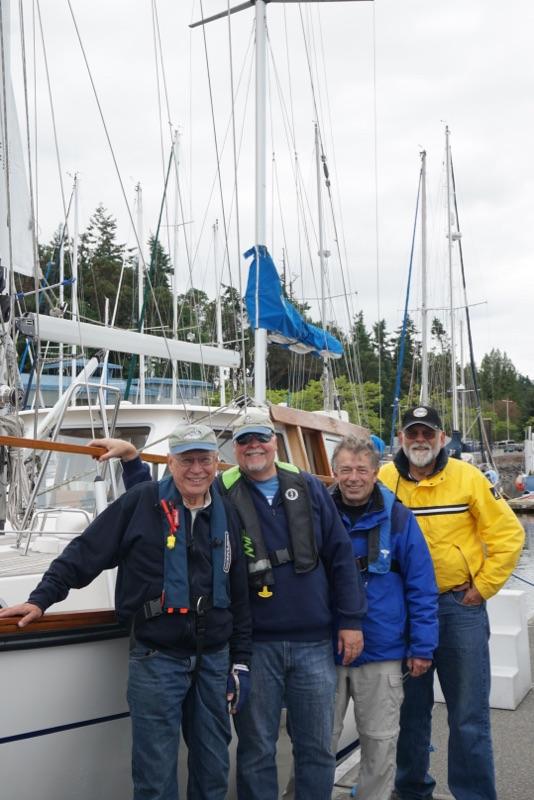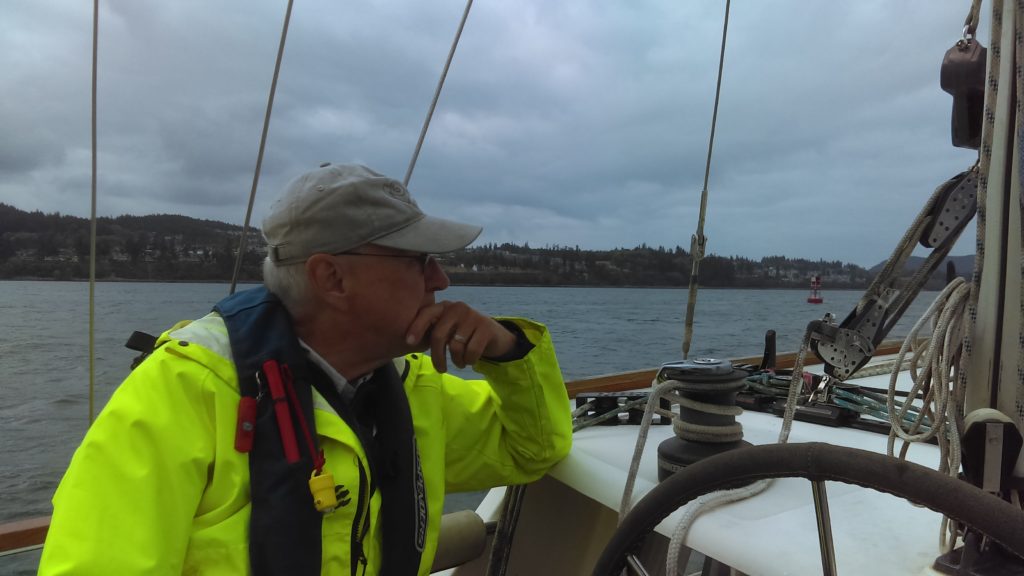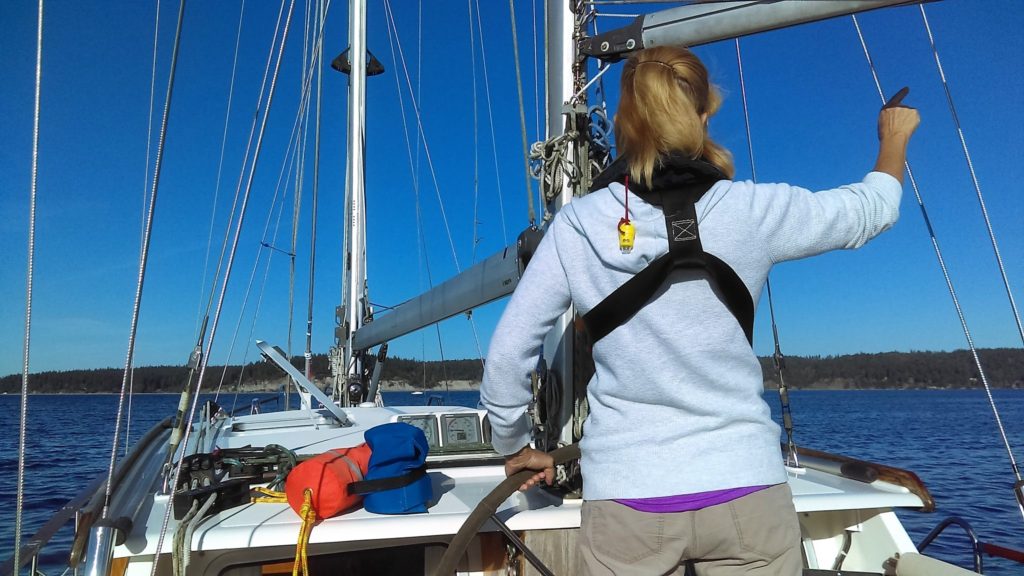 WORTHY MENTION - Acknowledgement "Catherine Bilyard"
Catherine's quilt - "Boys in the Boat" has been showcased for the past year at Sequim Museum and Arts Center.