MONTHLY DINNER MEETINGS
Dinner Meetings are held the 2nd Monday of each month

Sunland Golf & Country Club
109 Hilltop Dr. Sequim 
5 pm Happy Hour, Business Meeting 6 pm
Dinner begins at approximately 6:30

A guest Speaker /Entertainer following the dinner
 

NEXT MEETING: September 8th
We are all off boating and travelling for the summer.  Our next meeting will be our annual September Fall picnic.
The picnic is to be held at the PAYC in Port Angeles.
  The Entree supplied by the Squadron with attending members bringing side dishes or dessert.  Further information will be posted prior to the event.
September Fall Picnic - details will be added prior to the event.  Check back then.  Enjoy your summer.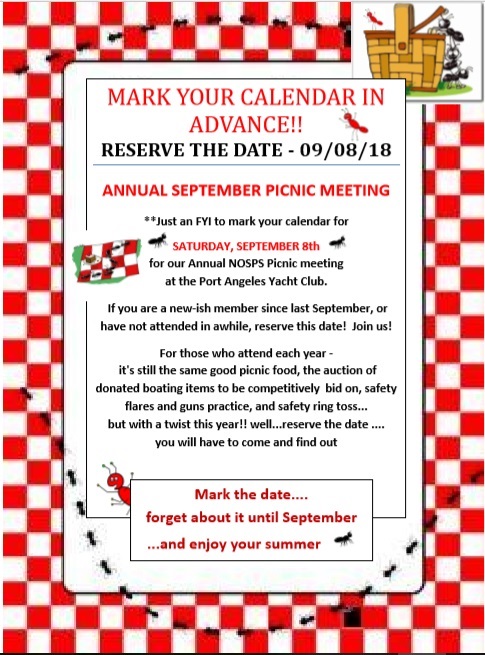 Members, their guests and the public are welcome. .
To reserve contact AOnilamnosps@gmail.com  
(Email Invitations will be sent out to all members.
Please respond with a yes or no upon receipt.  Thank you!)
BRIDGE ADMIN MEETING
Friday, September 7th
Sunland Cafe @ Sequim Golf Club Cafe
8:30 am Commencement.  All members welcome to attend.
Come early to order breakfast.
Meetings last approx. 1 - 2 hours.